INTERNATIONAL S.E.T.I (Search for Extra-Terrestrial Intelligence) CONFERENCE

"Evolution of the Unknown"
What is The Universe Made of?
Auditorium IFI Yogyakarta, Jl. Sagan No. 3 – Yogyakarta –Saturday, July, 29th 2017 10.00 AM -17.00 PM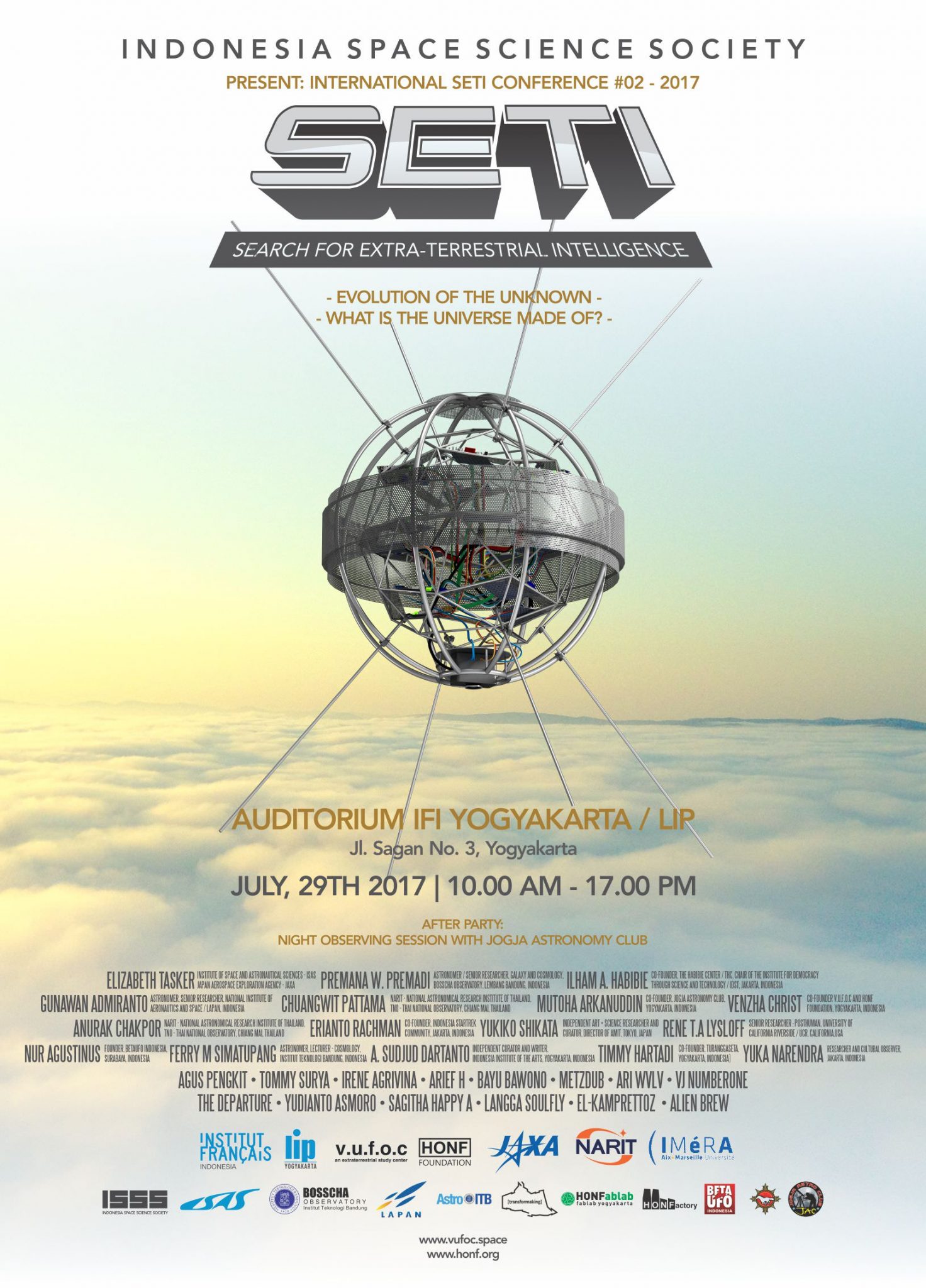 S.E.T.I : SEARCH FOR EXTRA-TERRESTRIAL INTELLIGENCE EVOLUTION OF THE UNKNOWN - WHAT IS THE UNIVERSE MADE OF?
---
Evolution of The Unknown - What is the universe made of? is a symposium which invites participants whose work is on the horizon of the known, from various fields, across science, the arts, astrophysics, astronomy, space science, humanities and other less traditional fields of study. We come together to share our experiences of confronting the unknown, and the impact of the unknown on culture and imagination. Participants are also encouraged to bring any experiments or works they have made that may create encounters with the unknown, in a form that others may interact with. It will also be an opportunity for an experiment in the unknown that will be run during the symposium, with participation from attendees.

(*: Evolution of The Unknown is the first annual International SETI conference in south east asia since 2016)
SPECIAL GUEST SPEAKERS

:

Elizabeth Tasker

(UK)


Department of Solar System Sciences, Institute of Space and Astronautical Sciences – ISAS, Japan Aerospace Exploration Agency – JAXA
Premana W. Premadi

(ID)


Astronomer / Senior Researcher, Galaxy and Cosmology, BOSSCHA Observatory, Lembang – Bandung, Indonesia
Ilham A. Habibie

(ID)




Co-Founder, The Habibie Center / THC, Chair of the Institute for Democracy through Science and Technology / IDST, Leader of the National Information & Communication Technology (ICT) Council, Jakarta, Indonesia



SPEAKERS AND MODERATORS :

Gunawan Admiranto

(ID)


Astronomer, Senior Researcher, National Institute of Aeronautics and Space / LAPAN, Indonesia


Chuangwit Pattama

(Thailand)


Astronomer, Senior Researcher, NARIT – National Astronomical Research Institute of Thailand, Bangkok, Thailand and TNO – Thai National Observatory, Chiang Mai, Thailand
Mutoha Arkanuddin

(ID)


Co-Founder, Jogja Astronomy Club, Yogyakarta, Indonesia


Venzha Christ

(ID)


Co-founder v.u.f.o.c and HONF Foundation, Yogyakarta, Indonesia


Anurak Chakpor

(Thailand)


Astronomer, Senior Researcher, NARIT – National Astronomical Research Institute of Thailand, Bangkok, Thailand and TNO – Thai National Observatory, Chiang Mai, Thailand


Erianto Rachman

(ID)


Co-founder, Indonesia startrek community, Jakarta, Indonesia


Yukiko Shikata

(Japan)




Independent Art + Science Researcher and Curator, Director of AMIT, Tokyo, Japan


Rene T.A Lysloff

(USA)


Senior Researcher : PostHuman, University of California Riverside / UCR, California,USA
Nur Agustinus

(ID)


Founder, BETA UFO Indonesia, Surabaya, Indonesia
Ferry M Simatupang

(ID)


Astronomer, Lecturer – Cosmology, Institut Teknologi Bandung – ITB, Bandung, Indonesia
A. Sudjud Dartanto
Independent Curator and Writer, Indonesia Institute of the Arts, Yogyakarta, Indonesia
Timmy Hartadi
Co-Founder, Turanggaseta, Yogyakarta, Indonesia
Yuka Narendra


Researcher and Cultural Observer, Jakarta, Indonesia



VIDEO REPORT SETI 2017
PHOTO REPORT SETI 2017